21 Facebook Tricks and Tips Everyone Should Know
Updated: Jul 12, 2019
General Facebook tips


1. Trick out your profile
There are a few steps involved in setting up a basic Facebook Page, but the secret to great engagement rates is taking the time to optimise.
Make your Page easy to find with a simple username (a.k.a. vanity URL) so that people know who you are. If you think you might be a big enough brand, shoot for the stars and apply for that authoritative blue verification checkmark.
A looping profile video (as opposed to a picture) might not be for every brand, but a video cover, which can be up to 20 seconds long, is an eye-catcher. Meanwhile, key information like address, contact info and opening hours is a no-brainer for brick-and-mortar businesses.
Don't skimp on the "Our Story" section either. It's a great way to set audience expectations and encourage people to like and follow you.
2. Drive traffic to Facebook
If you're just starting out, let your existing audience know where you're at. Chances are they're on Facebook, too. Get more Page likes on Facebook by adding Follow or Share buttons to the code of your website or blog. Go ahead and cross-promote by including links to your Facebook page on your other social media platform bios.
And don't forget the real world: business cards and promotional materials should include your Facebook page URL as well.
3. Convert the curious
Sending out mass invites to like your Page can feel a little impersonal, or worse, spammy. Take time to craft a message that outlines why a person might want to pay attention, and keep in touch.
Even better: you can easily invite people who have already liked one of your posts to take the next step and like your Page.
To do so, just click on the list of names below the post. In the window, scroll down and click the Invite button as necessary. Don't be shy: these folks have already shown support and interest in what you're up to.
4. Showcase your best work
As a Page administrator, you can pin a post to keep it top-of-mind for visitors. Whether it's an announcement, a promotion, or just a high-performing post that your audience already loves, take advantage of the opportunity to get more eyeballs on it.
You can pin a post by clicking the ellipsis button in the post's top right corner.
Just remember to keep your pinned post fresh by rotating it every few weeks, especially if it's time-sensitive.
5. Be friendly
Dale Carnegie said that the sweetest sound is a person's own name. On Facebook, it seems like the sweetest sound is the notification ping.
Mention a person in a post and they're a lot more likely to share that post with their friends. If you're a brand, why not give another brand a like and see if the feeling is mutual? This kind of awareness-raising, when done right, is as wholesome and organic as a Whole Foods salad: it sets you up for healthy growth.
Facebook tricks for business Pages
As a business Page, you can take advantage of special perks and features designed to help you engage.
6. Perfect your call-to-action
The CTA button is a front-and-centre opportunity at the top of your Page, so make sure it's sending your audience in the right direction. If you're looking to communicate, "Sign up" or "Send message" might be perfect. Meanwhile, "Book now" or "Shop now" can help you identify immediate prospects.
To adjust the CTA button on your desktop, hover your mouse over the default "Send message" button and click Edit.
7. Customise your tabs
Every Facebook page has some basic tabs on the left-hand side, including About, Events, and Photos. Take the next step and highlight your promotions, apps, custom landing pages or gated content by creating a custom tab so your curious audience can check out your best features.
You can work with a developer or use a Facebook Page app to create your custom tabs
.
8. Frame your fans
Facebook's photo/video overlay effects are a fun, creative opportunity to interact with your audience as they use the Facebook camera. While a full video overlay takes some technical know-how, a simple photo frame can be created in a snap using the Camera Effects tool.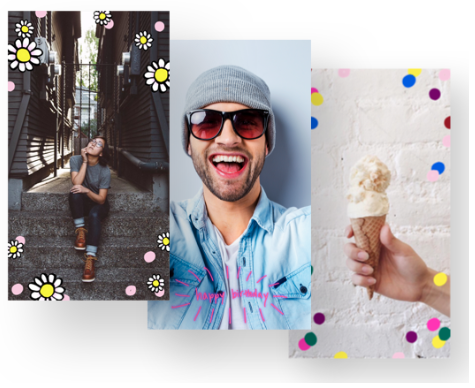 9. Gather your biggest supporters in a Facebook Group
Facebook Groups are one of the best ways to build community among like-minded people. And now that Facebook's algorithm is focusing on meaningful interactions above all else, businesses are taking note. A brand-endorsed Group is kind of like a focus group of your superfans, where they can learn about promotions and events, share experiences, or interact with each other and your business.
From your Facebook Page, you can start a Group by clicking the ellipsis button, naming the Group, and sending out a first round of invitations to join. Consistent management is important to keep the Group thriving, so check out more strategies for business Facebook Groups.
10. Go live
Facebook Live video has the greatest reach of any post type. Plus, it draws 10 times as many comments as regular video and people watch it for three times as long. Facebook actively prioritizes live video by placing it at the top of the News Feed, as well as sending notifications to potentially interested audience members.
Jump on all these advantages by scheduling a broadcast in Publishing Tools, or just go live by selecting the Live Video icon in the Update Status box.
Livestreaming on Facebook is perfect for giving tutorials or demos, broadcasting an event, making a big announcement, or going behind the scenes. The longer you're live (Facebook recommends at least ten minutes) the higher the likelihood that people will tune in.
Facebook tricks for publishing
Take the guesswork out of a perfect Facebook post with these tips.
11. Write snappy copy
The ideal length for an organic Facebook post is less than 80 characters (receiving 66 percent more engagement, according to Buzzsumo). For a paid post, try to stick to under 18 characters. With so little space, you're going to have to get Shakespearean to prove that brevity is the soul of wit. (Or you can use the Hemingway app.)
Still, there are always exceptions to this rule: people value publishers and thought leaders for their ideas, not their concision. Nuanced and important ideas can take up more space. But since attention spans are on a steep decline, keep in mind that the first few words are the most important to any reader.
12. Engage without baiting
Facebook's algorithm will demote any Pages that post sensational or misleading information. Asking questions and posting polls are great tactics, but there's a difference between writing clickable content and writing clickbait.
If you try to push or bribe people into clicking, liking, sharing, reacting or voting on your posts, your reach will suffer. Instead, focus on creating shareable content that piques curiosity, stirs emotion, and provides value to your audience.
13. Schedule your posts
Consistent, quality posting will keep your audience engaged, but dropping everything twice a day to craft a smart, sleek, intriguing post with gorgeous visuals is … tough. Especially when your target audience is several time zones away. One of the best Facebook hacks is to craft a few posts at once and queue them up in advance using the Schedule Post button.
14. Make mistakes, and learn from them
Every scientist knows that experimentation leads to knowledge.
Every time you post to Facebook you learn more about your audience. Their habits, loves and annoyances will show up in your Page's Insights dashboard. To capitalize on these metrics, regularly check up on your posts' reach and engagement, and adjust future plans accordingly.
When you're paying for ads, this information becomes crucial. Here's a detailed guide on how to use Facebook Audience Insights to hone your ad targeting.
Facebook Messenger tricks
Facebook Messenger is becoming the one-stop shop for interacting with friends, family, and—yes—brands. Many of the best Facebook hacks happen in Messenger, as opposed to the News Feed.
With chatbots in the mix, Messenger replaces the need to open an app, pick up the phone, or search online. If you don't already have one, now's the time to create your Facebook Messenger strategy, but in the meantime, here are some quick wins.
15. Reply instantly with a bot
Response time is crucial when interacting with people on Facebook Messenger. Facebook's Response Assistant will provide greeting text for anyone about to send a message to your Page. It can also send an instant response to any incoming messages, so that people know you'll be with them ASAP.
Click SettingsClick Messaging in the left columnUnder Response AssistantToggle the bar to Yes for Send Instant Replies to anyone who messages your Page OR Toggle the bar to Yes for Show a Messenger GreetingClick ChangeWrite your preferred message(s)Click Save
16. Let people know when you're away
Users can see how often and how quickly you respond to messages. If you want them to keep in touch, your response rating has to stay pretty high. (Yes, we're aiming for that green "Very responsive to messages" badge.)
But don't set yourself up for failure: you can schedule times when you're away from Messenger.
Click Settings In the left column, click Messaging Under Response Assistant, toggle the bar to Yes for Stay responsive when you can't get to your computer or phoneClick ChangeEdit the greeting to indicate when the user can expect to hear back from you.Click SaveUnder Stay responsive when you can't get to your computer or phone, click ChangeClick ScheduleSelect your timezone, then click Add TimeEnter the times when you won't be able to respond to messagesClick Save
17. Respond to public messages privately
While comments are great for bumping up posts in the algorithm, not all conversations need to be public. If you're dealing with a complaint or following up on an order issue, spare your audience the intricate details by messaging the person privately.
To do this, just click Message instead of Reply under their original post. A notification that you responded privately will show to the public, so no one will think you're ignoring people.


18. Build your own bot
Chatbots can do a lot: book a hotel room, answer your health questions, or impersonate Miss Piggy. Consider whether a bot could help your brand with customer service, or building awareness.
Don't worry, you don't have to learn to code to build one.
Facebook tricks for advertising
Organic reach has continued its decline, meaning that—especially for businesses—paid ads are increasingly necessary to access your audience. Advertising on Facebook has a learning curve, but mastering the various tools to target your audience and entice them to take action will pay off.
19. Sell in Messenger
Now that you have your basic chatbot set up, consider going beyond customer service and selling directly to your audience via Facebook Messenger. Sponsored messages are paid ads that go to anyone who has an open chat with your Facebook Page.
Think of your Messenger subscribers as belonging to a more immediate, personal email list. You can send potential leads updates, ask them questions, and notify them of valuable promotions. Here's how to set up a sponsored message on Facebook.
20. Install a Facebook pixel


If you're running Facebook ads you should have a Facebook pixel installed on your website. It's a bit of code that will track users' interactions with both your website and your Facebook ads.
Pixels can track conversions, optimize ads, build audiences for future ads, and remarket to leads. Most noticeably, pixels are the reason that a pair of sneakers you left in a shopping cart last night keep showing up as you browse the morning news.
It's simple to create a pixel in your Ads Manager (just click the hamburger icon and follow the prompts).
21. Grab attention with a Facebook Story
Facebook Stories are actually the least popular disappearing-post platform right now (150 million daily active users versus Instagram's 300 million, and WhatsApp's 450 million, according to TechCrunch). However, Stories are here to stay, and Facebook continues to give them prime placement on both desktop and mobile.
In other words, this is an unsaturated channel that will let you bypass the Newsfeed algorithm: why not try it?
Facebook also recently introduced Stories ads, meaning businesses can access neat features like 360 degree photos, cross-posting from Instagram Stories, and augmented reality tools. On top of that, they have a unique Group Stories feature, that allows anyone attending an event to contribute to a Story roll.
If you'd like to learn more about any of the above tips and tricks you can book me for one to one coaching here
Originally source: Hootsuite